COVID 19 HEALTH PROTOCOLS
Your safety is our priority. Our health protocols follow the ones established by the Health Ministry of Costa Rica and the World Health Organization. We always update any guidelines given by them and we have adhered to the Safe Travels Program for our guests and employees tranquility.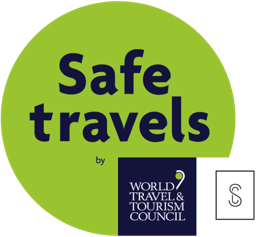 We have a sanitation programme that is very structured:
● All employees have received the training on the implementation of the protocols and products.
● We perform twice per day the sanitization of the common areas with quaternary ammonium salt of fifth generation in all common areas.
● In our breakfast area, our guests can find the signalization of the distances and hygiene products.
● We sanitize all apartments after check-outs with quaternary ammonium salt of fifth generation.
● Safety distances information throughout the hotel can be found.
● The usage of face masks is mandatory in all common areas of the property.
● Reminders of the usage of face masks and washing hands instructions are placed in various areas of the property.
● Our housekeeping team uses face masks, gloves and carries personal alcohol. They are instructed to wash their hands each time they perform the cleaning service in any apartment and common area.
● We have established different break hours for our team, to avoid conglomeration of people in the employees areas.
Cancellation Policies
We understand that plans can change, even more now than before. We have always granted guests flexibility and during the COVID-19 pandemic we are not charging any cancellation fee. We just kindly ask our guests to let us know as soon as possible of any change with the travel plans.